After nearly forty years performing (London Baroque), and teaching (Trinity College of Music in London, Hochschule für Musik und Tanz, Köln), Richard Gwilt is recognised as an expert in his field. Born and educated in Edinburgh, he has degrees in music from the University of Birmingham, and the University of Michigan (Ann Arbor), U.S.A. While at Birmingham, he studied classical violin with Orrea Pernel, and started playing the baroque violin in 1980 while studying music theory at the University of Michigan. On returning to England in 1983 he joined the mainstream of the English period instrument performing scene.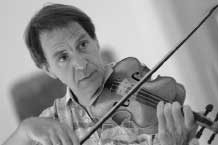 He has played and recorded with many orchestras, including the English Concert with Trevor Pinnock, the Academy of Ancient Music with Christopher Hogwood, the English Baroque Soloists with John Eliot Gardiner, and the London Classical Players with Roger Norrington. He has also worked with many orchestras in Europe, including Anima Eterna with Jos von Immerseel and La Chapelle Royale with Philippe Herreweghe.
It is, however, as a chamber musician that Richard Gwilt has built his reputation. He was a member of London Baroque for over 30 years (from 1984 to its dissolution in 2015) and has worked with numerous chamber ensembles throughout Europe. He has performed in most of the major chamber music concert halls (including the Concertgebouw in Amsterdam, the Konzerthaus and Musikverein in Vienna, the Wigmore Hall and Purcell Room in London and the Alice Tully Hall in New York) as well as other venues throughout Europe, Japan and the Americas. He has also made frequent radio and television performances, and recorded over fifty CDs, as both chamber musician and soloist.
A recent expansion of his chamber music activities has been the formation of the ensemble Arcomelos with Irmgard Schaller.
In addition to his work as a chamber musician, Richard Gwilt also works as a conductor and musical director, and is very active as a teacher. As conductor and musical director, he has worked among others with the Remix Baroque Ensemble in Porto (Portugal) with Concerto Armonico in Freiburg, and with the Altemusik ensemble in the Musikhochschule in Köln.
In 2005 Richard Gwilt was appointed Professor of Baroque Violin at the Hochschule für Musik und Tanz in Cologne. Previously he was professor of baroque violin and viola at Trinity College of Music in London (1986-2005) , and has taught at both the Royal Academy of Music and the Royal College of Music in London. He taught regularly for many years for the Academia de Musica Antiga de Lisboa in Portugal and the Ringve International Summer Course (Trondheim, Norway), and is a tutor for the EUBO audition courses. He has also taught on courses in Israel and Germany and given masterclasses throughout Europe and the States. As an expansion of his pedagogical activities, he has recently embarked on a series of articles about different topics concerning the violin and baroque performance practice. These essays can be found at Traditions of Baroque Violin Playing.
As well as performing and teaching, Richard is also active as a composer and music editor. As an editor and publisher (RG Editions), he concentrates on currently unavailable 17th and 18th century string music. As a composer he writes mainly chamber music for strings and sometimes voice. Recent works have included Sextuplet, a piece for six violins to complete a programme of music for three to six violins, a Mass, and a Passacalia for string orchestra (based on a seven-bar 12-tone theme). Rather different developments include a proliferation of songs for children, a mass of canons, and each year, a Christmas Carol!
His most recent venture, as retirement (!) looms, is making bows. After many years searching for the right bow, and all the research that the teaching post in Köln has encouraged, Richard eventually decided that the only way to really understand more about baroque bows is to make them himself. You can find out all about it here: Richard Gwilt - Historical Bows.